Forecasting The Future: How to Pick Forward Thinking Conference Topics
Recorded On: 02/10/2016
Forecasting! The mere word may cause fear, apprehension and the thought "I don't know how to do that! Much less how to apply forecasting to picking future-focused conference and education topics for my customers."
Don't worry you're not alone.
Forecasting is more than predicting or foretelling the future. And if you're under the impression that forecasting is something only strategists, governments and scientists know how to do, you're going to be pleasantly surprised.
Your organization's conference and education topics need to be forward focused not best-practice or backwards focused on what worked for someone last year. You need to forge programming that helps your customers forge a better future for their profession and lives.
Forecasting the right learning opportunities topics for your customers is an essential leadership activity. And it can be done with your committee volunteers too. All you need is the right tools and process to begin to make better decision in the present so that your customers gain optimal outcomes for the future.
This webinar showcases critical information and expertise from business strategist and author of Paid To Think David Goldsmith on a step by step forecasting process. And it works!
After attending this session, the participant will be able to:

Explain why learning opportunities should be future focused and not what worked in the past only.
Define the three forecasting orientations and which one you are currently using for planning and programming your conference and organization learning opportunities.
Discuss and apply a step by step forecasting process for identifying forward thinking programming options.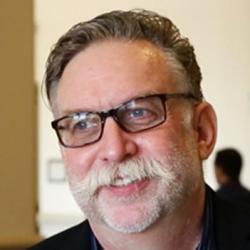 Jeff Hurt
EVP, Education and Engagement
Jeff Hurt joined Velvet Chainsaw Consulting in January 2010 and currently serves as Executive Vice President, Education and Engagement. In 2012, he was recognized as the PCMA Educator of the Year. Jeff has worked in leadership roles with five associations, five government organizations and several companies in the education, events and meetings departments, including Meetings Professionals International and Promotional Products Association International, one of the top 50 shows in the industry.He is considered one of the leading authorities in the meetings industry on adult education, conference design, digital events and social media for events and associations. He speaks and blogs frequently about meeting and technology trends, the future of conference education, adult learning and all things meetings at velvetchainsaw.com.

$i++ ?>